Purchasing A Gautrain Card
Gautrain Cards may be purchased at any Gautrain station using either the Ticket Vending Machines (TVM) or the Ticket Office.
The TVMs are similar to an ATM bank terminal and accept cash and bank cards. So, avoid the queues at the Ticket Office and give the TVM a go!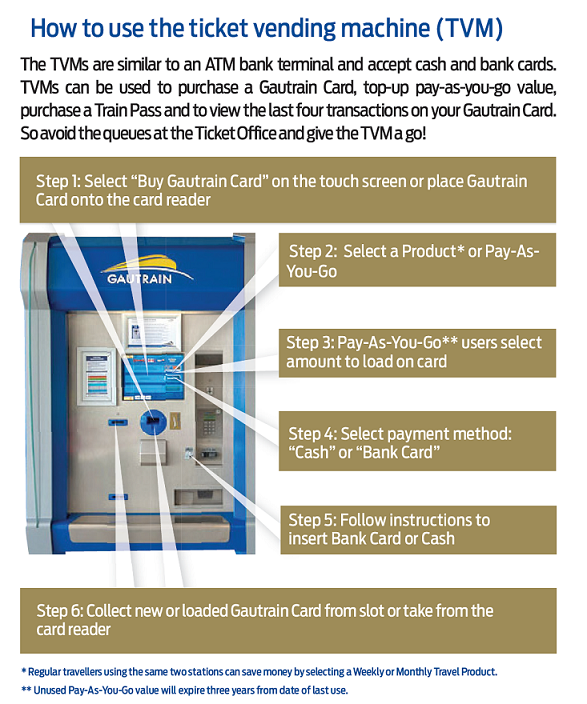 What is a Contactless bank card
Nowadays banks are issuing bank cards that may be used to make transactions at various retailers without the need to enter a Personal Identification Number (PIN).
If your bank card has this symbol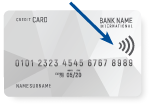 , then you have a Contactless bank card.
You may use your Contactless bank card to travel on Gautrain, train, buses and parking included.
Contactless bank cards that are accepted include:
Debit Cards
Credit Cards
Cheque Cards
National Department of Transport (NDoT) cards, such as Areyeng Card, Rea Vaya and My CiTi PayPasses
Register Your Gautrain Card or Contactless bank card
Users are encouraged to register their Gautrain Cards on the website or at any Gautrain station Ticket Office.
A registered Gautrain Card allows you to load value or purchase products online and to block your Card in the event of it being lost or stolen. Once your Gautrain Card has been blocked you may then apply to have the funds on the lost/stolen Gautrain Card transferred to a new registered Gautrain Card If you have value remaining on a blocked Gautrain card, you may submit a claim request online or complete a refund application at a station Ticket Office. If your Contactless bank card is lost or stolen, please contact your bank to have the card blocked.
To manage your Contactless bank card online, please register a Gautrain account on the Gautrain website or mobile app and link the Contactless bank card to your account. This allows you to submit claims or to view your travel history.
Watch videos here for information on how to use Contactless bank card